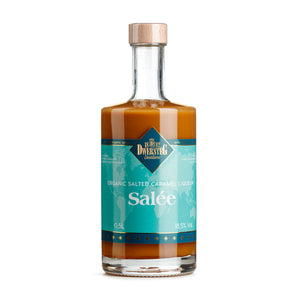 Salée Salted Caramel Liqueur Organic
Sale price Price €13,80 Regular price Unit price €69,00/ per l
Tax included.
Shipping
calculated at checkout.
Salée Salted Caramel Liqueur Organic

Our Salted Caramel Liqueur is made at low temperatures following an old house recipe.

This gentle process gives it its fine consistency and inimitable taste.
Finest caramel combined with a subtle hint of salt.

Enjoy Salée pure, on ice or as a dessert variation.

Committed to tradition and organic!
Out of responsibility for people and nature, we support the work of NABU "Projekt Meere" with a sponsorship.
With every bottle of Salée sold, we donate €1.00 to organizations such as NABU and the German Foundation for Marine Conservation.

We say thank you and salée!

Ingredients:
Egg liqueur*, Viktoria Caramel*, Salt*

Filling quantity: 0,2 L or 0,5 L

Alcohol: 18,5 % vol.